VoodooChile
03:04 PM 03-12-2007
I feel like a moron for even asking, but dh was SUPPOSED to register our Marathons, but instead he threw everything out. I called Britax and the automated operator said I would find serial #, batch #, and model # on a sticker on the seat--I see a few numbers that are all similar to one another, but I'm not sure what's what, and I've been on hold w/ Britax forever. I'm also finding a month/year only for DOM, and it looks like I need mo/da/yyyy to register online. Can anyone help?
TIA

broken4u05
03:20 PM 03-12-2007
I think you should find that on the sticker that is close the the head of the seat. I think that is were i saw mine. It is very small writing.

snowbird25ca
03:57 PM 03-12-2007
Seems to me the sticker has the info in a certain order. Lemme take a quick look for my registration card... I registered online too and the sticker on the card is the same as the one on the seat. It's pretty tiny - maybe an inch high and 2 inches wide? (Sorry my inches aren't the most accurate, I'm used to metric.) Our sticker is on the side of the seat.

eta: my reg card isn't where I thought it was, but you can see the sticker showing on the seat in my siggy... guess it's not as small as the one on the card was. I'll enlarge it for you and post again with the picture.

snowbird25ca
04:00 PM 03-12-2007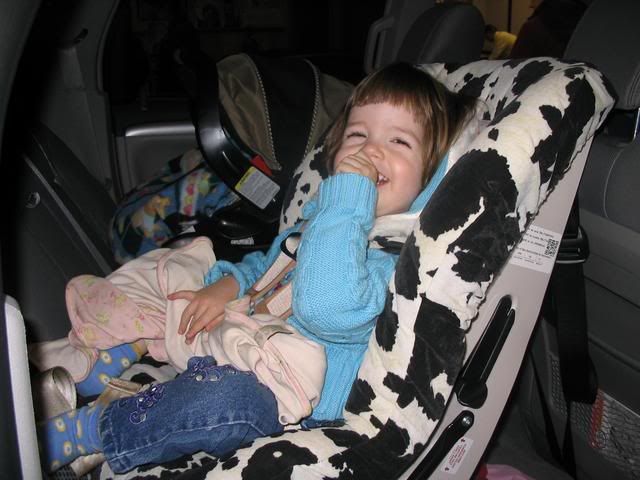 edit:
I cropped and blew up the picture and here it is:
It's in french on this label - english must be on the other side of the shell... but this gives you a good view of what it looks like. The order is serial #, model #, lot # and then manufacture date is at bottom.
VoodooChile
06:52 PM 03-12-2007
Thanks!!! I was able to find the sticker on both seats, but now the online registration isn't working. I guess I'll try to call Britax in the morning.